"Indelible" Art Show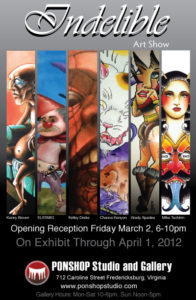 (click the pic to go to Ponshop event site)
PONSHOP Studio and Gallery
712 Caroline Street, Fredericksburg, Virginia 22401
Opening Reception: Friday, March 2, 6-10pm
Exhibition Dates:
March 2 – April 1, 2012
PONSHOP Studio and Gallery are pleased to announce "Indelible," a group
show featuring seven of the areas talented and bold contemporary artists. The
opening reception will be held on "First Friday" March 2, from 6-10pm.
PONSHOP will feature the work of Jack Brown's Tattoo Revival artists Kenny
Brown, Kelley Drake, Chance Kenyon, Grady Spades, and Mike Tschirn. The
range of their media includes ink on paper to oil on canvas. Their latest pieces
incorporate vibrant colors, surreal images, and bold lines. Elstabo, a 2011 Urban
Decay II featured artist and recent resident talent, is also contributing to the
collection with his vivid and graphic paintings on canvas. The show will also
include photographs of Jack Brown's artists taken by Adam Desio.
For more about the participating artists in March's "Indelible" Show, visit the
PONSHOP Blog
Love,
Jack Brown