Blog
By Jack Brown on July 31, 2012
Guess if you wanna see what it says you should
go become a member of the Friend Club…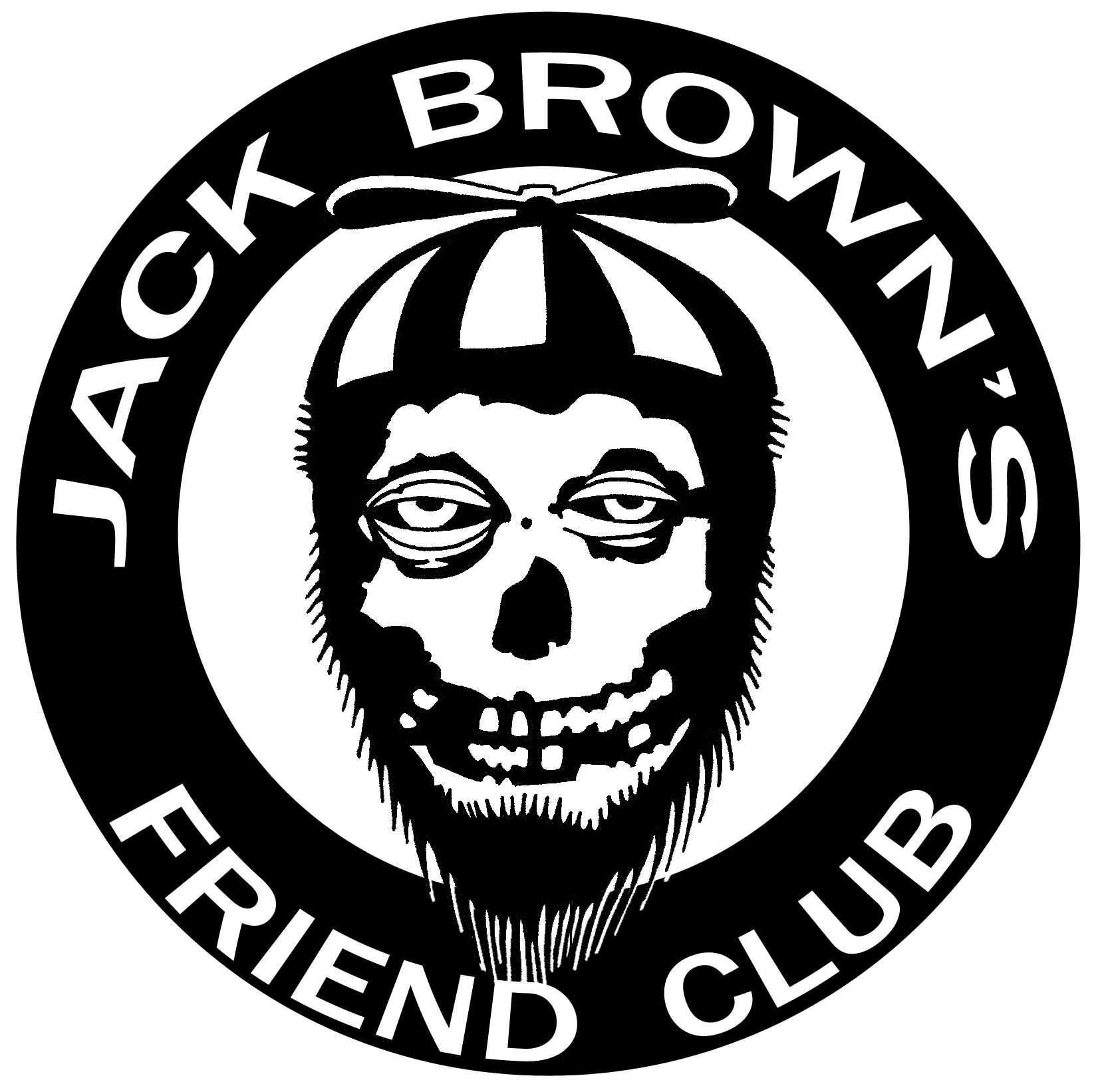 Posted in Uncategorized
By Jack Brown on July 25, 2012

6th Annual TATTOOS FOR COMMUNITY Aug.11th & 12th!
2 full days of walk-in tattoos with all your friends at the Revival…
100% of all tattoo proceeds go to the FAIRY GODMOTHER PROJECT!
Making a difference in the lives of Pediatric Cancer Families…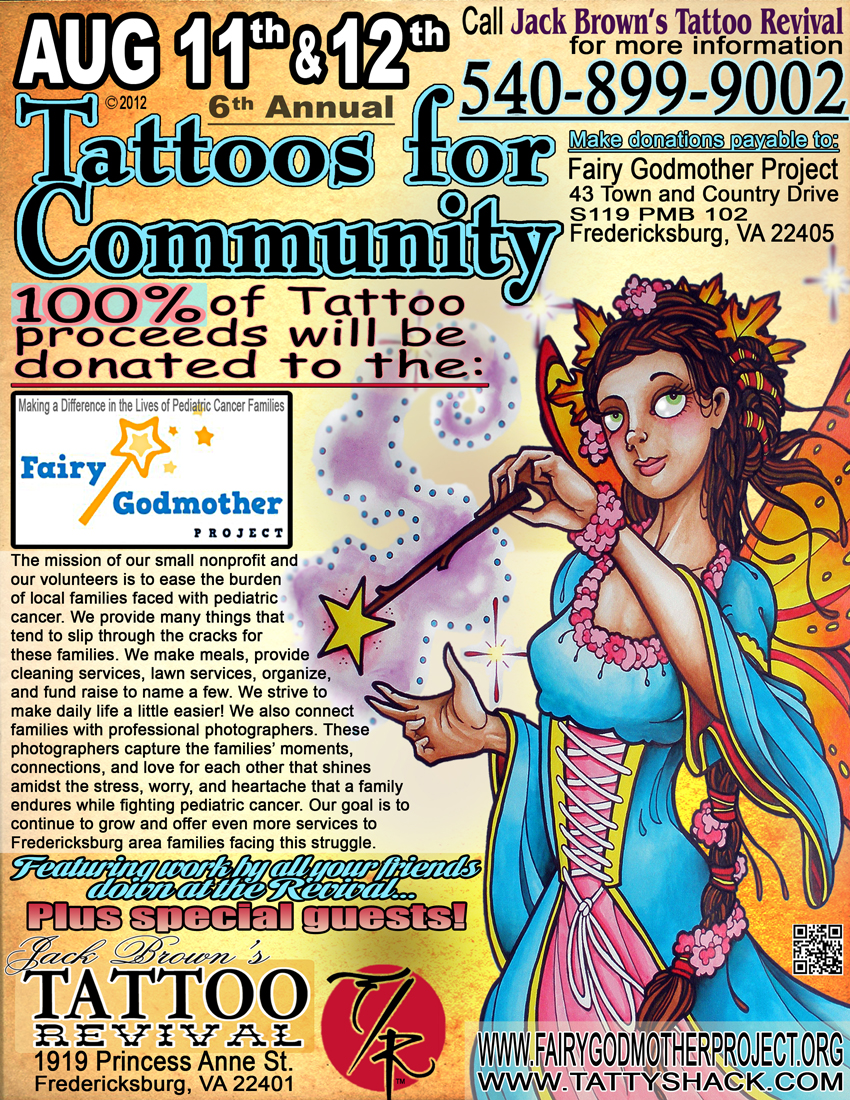 click to go to FAIRY GODMOTHER PROJECT WEBSITE…
Love Jack Brown

Posted in Uncategorized
By Jack Brown on May 24, 2012
Mark your calendar and join the Workhouse at the opening reception for Urban Decay 3 on Saturday, June 2 from 5-11pm. There will be an artist talk from 5-6pm featuring James Walker,RSIN, Gabriel Pons and Kenny Brown. The from 7-11pmthere will be live music by Shade Parade and Lightspeed Rescue and live artist demos will be on tap for the rest of the night.   Urban Decay 3 will focus on the aesthetics of urban low-brow art; an underground visual art movement. Artists have been selected from around the country to exhibit. Lowbrow is a widespread populist art movement with origins in the underground comic world, punk music, hot-rod street culture, graffiti and other subcultures. This exhibit will also showcase vinyl doll submissions that have been artfully decorated.

Posted in Uncategorized
By Jack Brown on February 23, 2012
"Indelible" Art Show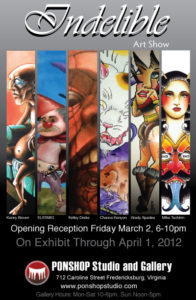 (click the pic to go to Ponshop event site)
PONSHOP Studio and Gallery
712 Caroline Street, Fredericksburg, Virginia 22401
Opening Reception: Friday, March 2, 6-10pm
Exhibition Dates:
March 2 – April 1, 2012
PONSHOP Studio and Gallery are pleased to announce "Indelible," a group
show featuring seven of the areas talented and bold contemporary artists. The
opening reception will be held on "First Friday" March 2, from 6-10pm.
PONSHOP will feature the work of Jack Brown's Tattoo Revival artists Kenny
Brown, Kelley Drake, Chance Kenyon, Grady Spades, and Mike Tschirn. The
range of their media includes ink on paper to oil on canvas. Their latest pieces
incorporate vibrant colors, surreal images, and bold lines. Elstabo, a 2011 Urban
Decay II featured artist and recent resident talent, is also contributing to the
collection with his vivid and graphic paintings on canvas. The show will also
include photographs of Jack Brown's artists taken by Adam Desio.
For more about the participating artists in March's "Indelible" Show, visit the
PONSHOP Blog
Love,
Jack Brown

Posted in Uncategorized
By Jack Brown on February 4, 2012
Tomorrow! at Hard Times Downtown we will be having a 50/50 Raffle for great prizes. Proceeds will go to help UMW Playlab Autism Clinic. We have worked with Play Lab in the past during Tattoos for community  and they are a great and important local non profit. Please come support and root for your favorite team!!! Spread the Gospel!
Love,
Jack Brown and Hard Times

Posted in Uncategorized
By Jack Brown on February 2, 2012
New Article in The Fredericksburg Front Porch
is now up on the press section of the website.
It shows an extremely dapper Kelley Drake zapping away.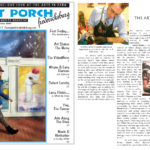 CHECK IT OUT!

Posted in Uncategorized
By Jack Brown on January 30, 2012
If you want to get SWEET INFREQUENT NEWS LETTER E-MAILS,
SPORADIC EXCLUSIVE CONTENT and OFFERS, Go to
www.tattyshack.com
and sign up for the FRIEND'S Club.
You'll be glad you did…
Love, Jack Brown

Posted in Uncategorized
By Jack Brown on January 27, 2012
We also want to make sure everyone knows about our new artist Mike
Tschirn! He is currently working with us on Tuesdays and Fridays, so
come on down and introduce yourselves. The rest of the week he can be
found at our friend's shop, Golden Monkey.

Posted in Uncategorized
By Jack Brown on January 27, 2012
We would like to let everyone know that Nate Drew is no longer working
for us full time. He can be found at Red Dragon Tattoo in Richmond
along with our friends Donut and MJ. He remains a strong ally and we
have decided that the divide and conquer approach is the best course
for now. Any new information about Nate will be passed along

Posted in Uncategorized