First things first…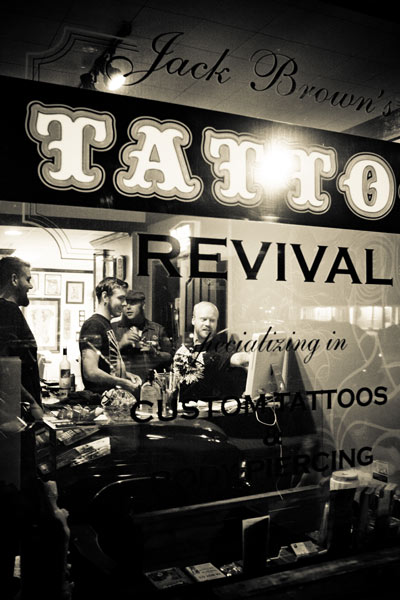 We are a tattoo shop. There is nothing we like better then Tattooing, it is our life. We also like to have a good time and in our open tattoo studio we look forward to sharing laughs with our clients. Although you are welcome to bring your children in, we are an adult business so be prepared. Sense of humor is pinnacle…
Jack Brown's Tattoo Revival body art and piercing studio is the premier tattoo shop in Virginia located in Fredericksburg, VA. Our well known and respected Tattoo Artists Kenny Brown, Chance Kenyon, Kelly Drake, Greg Howell and Grady Spades have over 50 yrs experience as Tattooers. With Jaq Turgeon's over 15 yrs piercing experience and frequent guest artists from all over, there isn't a job you can imagine that we aren't ready to tackle. We take great pride in our work, our community, and the history of this industry. Our crew is ready to help you create the tattoo Art Designs, Piercings, and Custom Tattoos that you want. These tats will not only stand the test of time but be works of Body Art that you can be proud and comfortable to showcase for years to come. And at Jack Browns we stand behind all of our work and offer free touchups.
We have numerous new, satisfied, and returning clients who seek out the work of our tattoo artists and travel to our Fredericksburg Tattoo and Body Piercing Parlor from all over the DC Metro and Northern Virginia areas, including Fairfax County, Prince William County, and Stafford County. Word of mouth brings us new clients from Manassas, Fairfax, Woodbridge, Stafford and Richmond.
Our mission is to provide our customers with the best, most colorful, and unique custom tattoos in a comfortable, safe, sterile, clean, and friendly environment. Every precaution is taken at Jack Brown's Tattoo Revival to insure your safety including our "single use" policy – which means anything that comes in contact with your skin or that we use in our tattooing and piercing is only used once and then properly disposed of. We have our own state of the art autoclave and do all sterilization in house. Our equipment and work areas are clean and sterilized to insure your safety and that you have a pleasant experience whether it is your first tattoo or return customer.
Our history…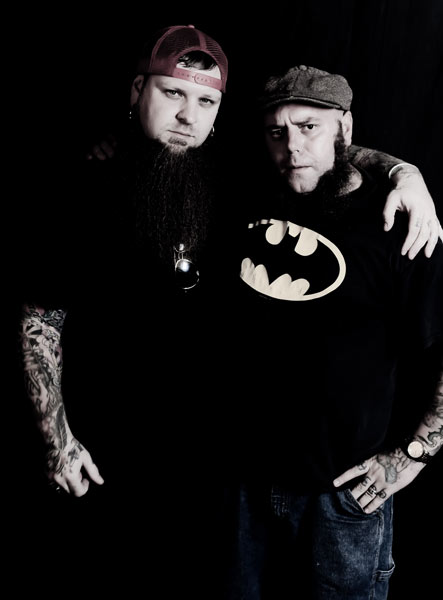 In 2006 Kenny Brown and Chance Kenyon joined forces to create the force of nature known the world over as JACK BROWN'S TATTOO REVIVAL. Standing strong against a cruel barrage of broken windows and other obstacles we rose above and cemented our place as the leading tattoo shop in the greater Fredericksburg area. Our community based approach and strong ties to respected local and far reaching tattooers has garnered friends as well as praise. This success would not be possible without our clients kind words.
Community involvement has been a priority for us since day one. Fredericksburg is town rich not only in history but in artists, merchants, and restaurants that we proudly support. We also believe strongly in giving back to the town. Our annual TATTOOS FOR COMMUNITY event, spear headed by Tawnia Brown, has to date raised over $50,000 for local non-profits such as the Rappahannock Counsel Against Sexual Assault, Fredericksburg Food Bank, Fredericksburg SPCA No-Kill Shelter, UMW Playlab for children affected by autism, and Safe Harbor Child Advocacy Center. For information about these charities check out our links section.
In 2011 we became a co-sponsor of the Richmond Tattoo Arts Festival presented by FLACO Productions. This is the longest continually run tattoo convention in the country and is going on it's 20th year. Many tattooers, including us, would not be where we are today without this event and we couldn't be more honored to be a part of it. Help us make it the premier convention in the USA…
Finally at Jack Brown's Tattoo Revival we are family. We are your fucked up cousins and crazy hessian uncles. And we both know they are the fun ones at get togethers. So we hope to see you soon…